CRL Newsletter
Vol. 19, No. 2
June 2007
News
---
CRL Highlights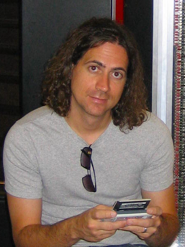 Congratulations to Victor Ferreira who recently earned a Distinguished Teaching Award. The Distinguished Teaching Awards are sponsored by the San Diego Division of the Academic Senate at UCSD.

The following descriptions of Vic were given by students and colleagues: personable, approachable and friendly, every moment for him is an opportunity to teach, to interact, to motivate, constantly teaching and learning. To him, "teaching is not so much something one does, as it is a way of life."
---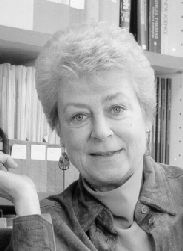 To Jean Mandler: Congratulations! Congratulations! Congratulations!

Jean has been awarded the American Psychological Association Distinguished Contribution for 2007, and two awards for her book "The Foundations of Mind: Origins of Conceptual Thought": the American Psychological Association Eleanor Maccoby book award, 2006, and the Cognitive Development Society Outstanding Authored book award, 2007.
---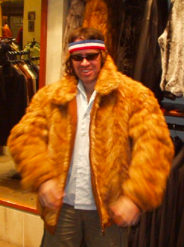 Congratulations to Jeremy Boyd who has accepted a 1-year postdoc in the princeton psychology department to work with Adele Goldberg on construction learning.
---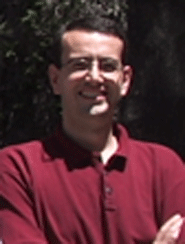 Congratulations to Ezra Van Everbroeck who successfully defended his dissertation "A Connectionist Model of the Effect of Pro-Drop on SVO Languages" in May.
---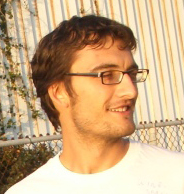 Congratulations to Bob Slevc who successfully defended his dissertation "Saying what's on your mind: Working memory effects on syntactic production" in March.
---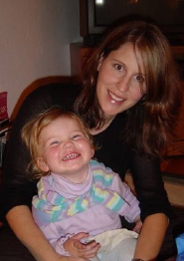 Congratulations to Liane Wardlow-Lane who successfully defended her dissertation "Not Saying What's on Your Mind: How Speakers Avoid Grounding References in Privileged Information" in May.
---
Congratulations to Katie Travis, Jeff Elman, Eric Halgren, Anders Dale, Tim Brown, Mingxiong Huang, Elizabeth Redcay, and Matthew Leonard. They have been awarded an Innovative Research Grant from the Kavli Institute for Brain and Mind. Their proposal entitled "Joint Attention and the Neural Correlates of Word Learning in Human Infants" is as follows.
There are many milestones in a child's first year of life. By 12 months of age, children are already capable of learning words and have also started speaking. Discovering exactly how children are able to learn words has been an area of intense investigation, however, very little is known about the brain bases associated with word learning during infancy. Critical to understanding how the infant mind acquires languages will be determining when and where word learning occurs in the infant brain. In general, studying these questions will also be useful for learning more about how the infant brain grows and changes during these first years.
With this neurobiological perspective of language development, Katie and her collaborators propose to study some of the important behaviors that infants use when learning words. Specifically, they are interested in studying joint attention (JA). Joint attention is a behavior associated with language development and is considered to be an important component of social interactions between adults and children. They will study the brain regions associated with joint attention and word learning in 12-24 month old infants using non-invasive brain imaging technologies such as magneto- and, electro- encephalography (M/EEG) and structural magnetic resonance imaging (MRI). The anatomical maps generated from these brain imaging techniques will help them learn about the essential brain regions involved in word learning processes and how the infant mind develops in the first years. From investigating these questions, they hope to contribute to current knowledge by further understanding how the human mind acquires language.
---
New Researchers at CRL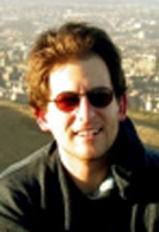 CRL welcomes Roger Levy to our affiliated faculty. Roger is an Assistant Professor in the Department of Linguistics here at UC, San Diego. He earned his Ph.D. at Stanford University. Roger's research is in the area of computational linguistics and psycholinguistics. His current research focuses on natural language parsing and syntactic comprehension, with a strong emphasis on probabilistic models. And he is also active in research on formal syntax.
---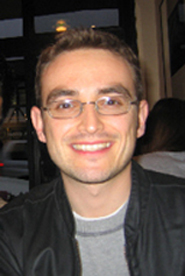 Tim Beyerbegan a postdoctoral fellowship in CRL in Fall 2006. Tim double-majored in Psychology and Chinese at Washington University, St. Louis, and earned a Ph.D. in Psychology from UC Berkeley. His thesis looked at Standard American English tense morphology and how it is interpreted by 1st and 2nd grade speakers of African American English and Standard American English using off-line and on-line (eye-tracking) measures. Tim is interested in language processing generally and more specifically how morphology is integrated on-line to arrive at sentence-level meaning. He is also interested in how speakers of different varieties of English (e.g., African American English) process and interpret Standard American English. Tim is working with Marta Kutas to learn how to use electrophysiological measures as another methodology to investigate the time-course of on-line sentence processing.
---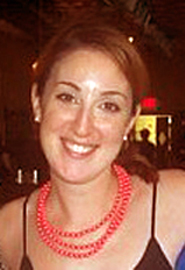 Leah Fabiano began a postdoctoral fellowship in CRL in Fall 2006 under the mentorship of Jessica Barlow at San Diego State University. Leah earned her Bachelor's and Master's degrees in speech pathology from the State University of New York (SUNY) College at Fredonia and her Ph.D. in communication sciences from Temple University. Her research interests include phonological representation, development, and disorders in bilingual children.
---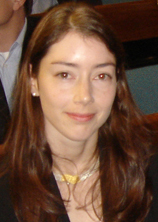 Pia Knoeferle has joined CRL in January 2007 on a personal fellowship sponsored by the German Research Council. She has received her PhD from Saarland University, Germany. Her PhD research focused on investigating the incremental interplay between utterance comprehension mechanisms, visual attention in a scene, and the use of scene information for language processing. To investigate this issue, Pia relied on monitoring listeners' gaze to objects in a scene during spoken utterance comprehension. After her PhD, Pia spent two years as a postdoc at Saarland University working on parallelism in human parsing. In addition, she further explored online scene-sentence interaction using ERPs together with Thomas Muente (Magdeburg, Germany). At CRL, Pia will continue to pursue her research on the online interplay of scene information and sentence comprehension using electrophysiological methods in collaboration with Marta Kutas.
---
Language-related Conferences 2007
| | | | | |
| --- | --- | --- | --- | --- |
| Conference | From | To | Location | Deadline |
| European Workshop on Cognitive Neuropsychology | 01/21/07 | 01/26/07 | Bressanone, Italy | 00/00/00 |
| Information Structure in Child Language Workshop | 03/29/07 | 03/31/07 | Nijmegan, Netherlands | |
| CUNY Sentence Processing | 03/29/07 | 04/01/06 | San Diego, CA | 00/00/00 |
| Society for Research on Child Development | 03/29/07 | 04/07/06 | Boston, MA | 00/00/00 |
| American Academy of Neurology | 04/28/07 | 05/05/06 | Boston, MA | 00/00/00 |
| Cognitive Neuroscience Society | 05/05/07 | 05/08/06 | New York, NY | 00/00/00 |
| Language and Music as Cognitive Systems | 05/11/07 | 05/13/06 | Cambridge, UK | 00/00/00 |
| European Cognitive Science | 05/23/07 | 05/27/06 | Delphi, Greece | 00/00/00 |
| Association for Psychological Science Convention | 05/24/07 | 05/27/06 | Washington, DC | 01/31/07 |
| International Symposium on Bilingualism | 05/30/07 | 07/02/06 | Hamburg, Germany | 00/00/00 |
| Multi Development and Application of Language and Linguistics | 05/31/07 | 06/01/06 | Taiwan City, Taiwan | 00/00/00 |
| UCSD Cognitive Neuroscience Spring Retreat | 06/02/07 | | San Diego, CA | |
| Acoustical Society of America | 06/04/07 | 06/08/06 | Salt Lake City, UT | 01/29/07 |
| Symposium on Research in Child Language Disorders | 06/07/07 | 06/09/07 | Madison, Wisconsin | 02/01/07 |
| Human Brain Mapping | 06/10/07 | 06/14/06 | Chicago, IL | 00/00/00 |
| Association for Scientific Study of Consciousness | 06/22/07 | 06/25/07 | Las Vegas, NV | |
| Association of Computational Linguistics | 06/23/07 | 06/30/07 | Prague, Czech Republic | 01/23/07 |
| Annual Summer Interdisciplinary Conference | 06/26/07 | 07/01/07 | Kalymnos, Greece | |
| Psychonomic/Experimental Psychology Society (UK) | 07/04/07 | 07/07/07 | Edinburgh, Scotland | |
| Society for Text and Discourse | 07/08/07 | 07/11/07 | Glasgow, Scotland | 02/01/07 |
| Annual Summer School in Cognitive Science | 07/09/07 | 07/28/07 | Sofia, Bulgaria | 03/15/07 |
| Cognitive Aging | 07/12/07 | 07/15/06 | Adelaide, Australia | 00/00/00 |
| International Cognitive Linguistics Conference | 07/15/07 | 07/20/07 | Krakow, Poland | 00/00/00 |
| Toward a Science of Consciousness | 07/23/07 | 07/26/06 | Budapest, Hungary | 02/15/07 |
| Cognitive Science Society | 08/01/07 | 08/04/06 | Nashville, TN | 02/01/07 |
| Cognitive Science Assoc for Interdisciplinary Learning | 08/02/07 | 08/06/07 | Hood River, Oregon | 00/00/00 |
| International Conference on Phonetic Science | 08/06/07 | 08/10/07 | Saarbrucken, Germany | 02/28/07 |
| Architectures and Mechanisms of Language Processing | 08/24/07 | 08/27/07 | Turku, Finland | 05/04/07 |
| Interspeech-Eurospeech | 08/27/07 | 08/31/07 | Antwerp, Belgium | 03/23/07 |
| British Aphasiology Society | 09/10/07 | 09/12/07 | Edinburgh, Scotland | 02/09/07 |
| European Second Language Acquisition | 09/11/07 | 09/14/07 | Newcastle, UK | 02/15/07 |
| Society for Neuroscience | 11/03/07 | 11/07/06 | San Diego, CA | |
| Boston University Conference on Language Development | 11/03/07 | 11/05/07 | Boston, MA | 05/15/07 |
| Psychonomic Society | 11/15/07 | 11/18/06 | Long Beach, CA | |
| American Speech-Hearing Association | 11/15/07 | 11/17/07 | Boston, MA | 03/28/07 |